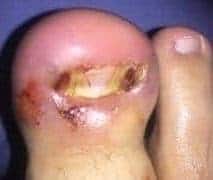 Do's and Dont's of Treating Infected Ingrown Toenails
You can get into a lot of trouble treating infected ingrown toenails at home. Here's how:
1. Digging at the nail opens small cuts into the skin , allowing bacteria to get inside the skins protective shield, increasing your chances of infection.
2. If you remove a small part but not all of an ingrown nail, often a deep spike on the side continues to grow and can even grow out of the top of the toe flesh, creating a much more painful and harder to treat situation.
3. Home tools are often inadequately cleaned and kept in the bathroom- not the cleanest room in the house.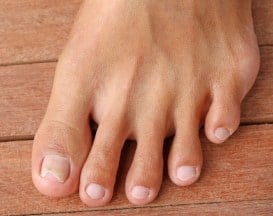 4. Thinking you "got it all" often delays professional treatment, again leading to worse infected ingrown toenails and more advanced treatments.
So my advice is make an appointment with a Podiatrist as soon as you feel a problem starting. While waiting for your appointment here are a few tips on home treatment of ingrown toenails to take the edge off the pain. However, Beaver Valley Foot Clinic often has same day and next day appointments so the problem is taken care of quickly and ending your suffering immediately!
To reduce inflammation and tenderness, soak your infected ingrown toenails several times a day for 10-15 minutes in lukewarm water Epsom salts help.

After soaking, dry the toe and apply antibiotic ointment and a bandaid to reduce local infection.

Wear shoes that dont press on the sore toe, like sandals or wider shoes until its better.

Ibuprofen or Tylenol may help temporarily, but be careful you aren't masking the pain, allowing the infection to worsen before you get treatment.
Preventing an Ingrown Toenail:
Trim toenails even with tips of toes. Shoe pressure can damage the nail bed.

Wear proper fitting shoes. Heels should not be over 1/2 inch, and the wider the toe box, the better

Cut your nails straight across. Don't let a salon cut your cuticles, they are important for keeping germs out.

Don't go barefoot outdoors. If your work puts you at risk of injuring your toes, wear protective footwear, such as steel-toed shoes.

Check your feet. If you have diabetes, have a friend, or use a mirror if needed, but check your feet every day for signs of redness, scrapes or other foot problems.
READY TO SCHEDULE AN APPOINTMENT?
Call us today 878-313-3338 to schedule at any of our four Podiatry Clinics in Beaver, Butler, or Allegheny County locations, including Podiatry offices Moon Township, Ambridge, Cranberry Township's full service Podiatric office and our newest Foot Clinic, Beaver, PA
Call now to talk to a foot care specialist 878-313-3338 ( FEET)
DISCLAIMER: email and contact forms not Monitored for emergencies;