Heel Pain & Heel Spur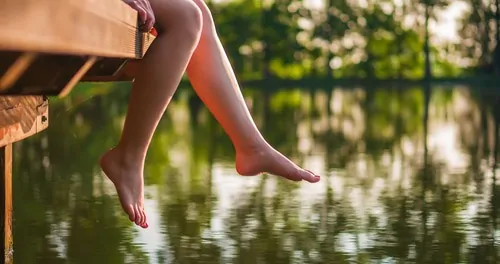 Heel Pain & Heel Spur Treatments, Pittsburgh Area
Heel Pain & Heel Spur
When heel pain strikes, it can be debilitating. Many people with heel pain or heel spurs in Pittsburgh, can't walk—let alone enjoy an active lifestyle—because it can be so painful. But, using state-of-the art technology, Dr. Christina and her staff at Beaver Valley Foot Clinic can resolve your Plantar Fasciitis, or heel pain, and you can regain your life!
Why Are You Experiencing Heel Pain or Heel Spurs?
Heel pain and heel spurs can often be aggravated by your job, your weight, your age, and your choice in shoes. These factors can cause pain in your heel: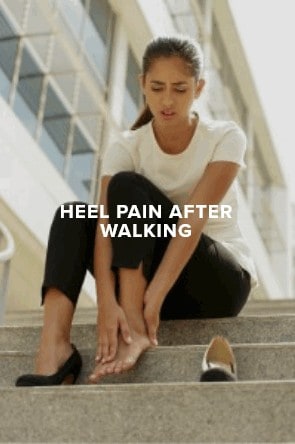 HEEL PAIN AFTER WALKING
Weight
Activity level
Increasing age
Overall general health
Sports injuries
Unsupportive footwear
Who Is Most Susceptible to Heel Pain and Heel Spurs?
People who lead an active lifestyle, such as athletes
People who must stand and walk a lot for work
Women who have just started a walking program to get in shape
Where Is the Heal Pain Located?
Pain under the foot( where the arch meets the heel bone: Plantar Fasciitis
Plantar Fasciitis (sometimes called a heel spur), is a painful heel condition that inflames the bottom of the foot when a ligament that runs from the heel bone to your toes becomes strained.
Pain behind the heel: Achilles tendinitis
Achilles tendonitis occurs when tissue connecting your lower leg's calf muscles to your heel becomes overused, causing heel pain. Runners frequently experience Achilles tendinitis.
What are heel spurs? 
Long standing irritation can cause formation of calcium deposits at the point where the plantar fascia inserts into the heel bone. The result is the appearance of a heel spur on x- ray. The spur itself is not the cause of pain. The terms heel spur syndrome and plantar fasciitis are often used interchangeably in medicine, and the cause and treatment for the conditions are the same.
Heel Pain & Heel Spur Solutions
Heal pain problems, in some cases, can be resolved through traditional conservative therapies like orthotics, exercise, ice, physical therapy, cortisone injections, or anti-inflammatory medications. However, sometimes heel pain can't be resolved through these remedies.
How is heel pain treated in Runners?
There are many treatments for heel pain, Pittsburgh.
At the first sign of pain in the arch or the heel, consider the following:
Shoe recommendation/ modifications like proper shoes for your activity.
Rest. Take  a few days off or decrease training.
Cross-training activities like swimming, walking, elliptical, or biking helps rest the aggravated area
Taping for biomechanical treatments helps temporarily.
Ice the area. Apply frozen veggies for ten – twenty minutes after activity or after work.
Stretch (toes to nose) before getting out of bed in the morning and several times through out the day after resting or driving.
Wear shoes at home inside the house- do not go barefoot.
NSAIDs (non-steroidal anti-inflammatory drugs) give temporary relief.
Cortisone injections.
Physical therapy modalities
Custom molded orthotics
ESWT for treating heel pain.
Surgical options are a last resort.
If you think you may have heel pain or plantar fascia pain, Pittsburgh, you can CONTACT US for assistance 878-313-3338 to find the nearest Beaver Valley Foot Clinic office in your area.
Extracorporeal Shockwave Therapy for Plantar Fasciitis
Extracorporeal Shock Wave Therapy, or ESWT, is a noninvasive alternative to painful surgeries. It treats chronic plantar fasciitis as a cause of heel pain. This is an excellent office procedure when all other conservative methods have failed!
Surgery is the best option for a rupture of the Achilles Tendon, which is characterized as pain on the back of the heel
Achilles tendon rupture cannot be solely treated with OTC medications, physical therapy, and heel lifting devices. If you feel a sudden "pop" or like you were shot in the back of the leg or can't stand on your tip toes, surgery is sometimes needed. If your Achilles tendon has ruptured, you may need surgery that will attach your tendons back together, and will then have a cast for six to 10 weeks.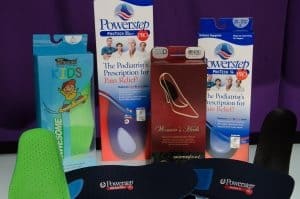 Images of arch supports and orthotics
We have arch supports and orthotics
Heel pain in 10-12 years olds -diagnosis and treatment
Commonly occurring in boys of 10 to 12 years old and  8 to 10 years old girls, Calcaneal apophysitis often  occurs during or after a growth spurt and at the start of sports seasons. Your child may complain of pain during or after running and jumping activities. Tight Achilles tendons or plantar fascia, along with overuse, high-impact sports, improper footwear and uneven training surfaces all may lead to heel pain in children. The "squeeze test," involves squeezing the bone of the heel medially and laterall y causing compression over the growth plate which is called the apophysis, causing pain. Treatment  may include decreased running and increase cross-training activities until the pain diminishes.
If you are experiencing plantar fasciitis or heel spurs, or any type of heel pain, call Beaver Valley Foot Clinic's 4 convenient locations today at 878-313-FEET (3338) so that Dr. Christina can assess your situation, administer treatment, and get you back on the road to feeling good again!
HOURS OF OPERATION BY APPOINTMENT
 Before and after work and lunchtime appointments available
Emergency appts reserved for Weekend, same day and evenings.
Why choose us as your Allegheny, Beaver or Butler County Foot Care Office?
Podiatry clinics in Ambridge, Moon, Bridgewater and Cranberry
Surgically Board Certified by ABFAS
Practicing 23+ years!
Options that fit each patients needs
Non-invasive options others don't have
We cater to cowards
Boarded and Certified very friendly assistants
Heel Pain
Pain in the heel may be plantar fasciitis which is caused by irritation or inflammation of the plantar fascia on the bottom of your feet. It typically produces the most pain in the morning when getting out of bed. It can be felt in the arch or heel of your feet. 
To treat it:
Rest your feet

Do heel and foot stretches for the surrounding muscles

Take over-the-counter pain relievers such as NSAIDs

Wear shoes with good support and a cushioned sole.
Heel spurs are another common source of foot pain. They are caused by abnormal growths of bone in the bottom of the heel. It can occur via abnormal gait or posture, as well as wearing the wrong shoes or running. Spurs can be painful while walking and standing. Most people do not experience pain symptoms with heel spurs. Individuals with flat feet or high arches are more at risk for heel spurs. 
To treat heel spurs:
Wear a cutout heel pad

Use a custom-made insert (called an orthotic)

Wear shoes that fit well and have shock-absorbing soles.

Take over-the-counter pain relievers such as NSAIDs

Rest

Physical Therapy

If you still have pain, ask your doctor about medical procedures.
A stone bruise is identified as a deep bruise of the fat pads of the heels or balls of the feet. This most often occurs from an impactful injury, but may also happen if a hard object is stepped on. The pain has been described like walking on a pebble, and it will gradually subside with time.
In the meantime:
Rest your foot.

Ice the area.

Take over-the-counter pain relievers.
A heel fracture is usually caused by a high-impact injury such as a fall or car accident. Your heel bone may break or shatter. Heel pain, bruising, swelling, and trouble walking are the most common symptoms of a heel fracture. 
To treat it:
Do not put pressure on the heel. Crutches are recommended

Protect the heel with pads.

Wear a splint or cast to protect the heel bone.

Ask your doctor about over-the-counter or prescription pain relievers such as NSAIDs

Physical Therapy

If you're still in pain, ask your doctor about surgery.
Are there non-surgical treatments for heel spurs, and how effective are they?
Yes, there are non-surgical treatments for heel spurs that can effectively alleviate pain and discomfort. These treatments may include:
Rest: Giving your feet time to rest and heal can be effective.
Ice: Applying ice to the affected area can help reduce inflammation and pain.
Stretching exercises: Stretching the calf and Achilles tendon can relieve tension on the heel.
Orthotics or shoe inserts: Custom or over-the-counter inserts can provide better arch support and cushioning.
Anti-inflammatory medications: Nonsteroidal anti-inflammatory drugs (NSAIDs) can reduce pain and inflammation.
Physical therapy: Exercises and techniques provided by a physical therapist can improve heel pain.
How can one differentiate between heel spurs and other causes of heel pain, such as plantar fasciitis?
Location of Pain:
   – Heel Spurs: The pain from heel spurs is typically located at the front and bottom of the heel, often beneath the heel bone.
   – Plantar Fasciitis: Plantar fasciitis pain is generally concentrated on the bottom of the heel and often radiates along the arch of the foot.
Onset of Pain:
   – Heel Spurs: Pain from heel spurs may develop gradually and become more persistent over time.
   – Plantar Fasciitis: Plantar fasciitis pain often begins suddenly, especially after activities like waking up in the morning or after prolonged periods of rest.
Contributing Factors:
   – Heel Spurs: These are often associated with prolonged stress on the heel bone, such as from running or repetitive activities.
   – Plantar Fasciitis: Tight calf muscles, obesity, high-impact sports, or improper footwear can contribute to plantar fasciitis.
Imaging:
   – Heel Spurs: A diagnostic X-ray may reveal the presence of a heel spur.
   – Plantar Fasciitis: While plantar fasciitis is often associated with heel spurs, it can be diagnosed clinically based on symptoms and physical examination.
---
FAQ Frequently Asked Questions
What do you do when your heel hurts?
Call a podiatrist
Rest until it is evaluated
Ice the area
take NSAIDS for comfort
Can Plantar fasciitis go away on its own? Sometimes if you catch it quick enough in the beginning, heel pain can resolve on its own, but if it has been present two weeks or more, get it checked out. It may become chronic, thus harder to treat.