Toenail Fungus Treatment with Laser - Serving the Greater Pittsburgh Area
About Toenail Fungus Treatment Laser
Are you embarrassed by what people would think if they saw your unsightly nails or warts?
Would you like a simple easy way to get rid of fungus or warts?
Quick Painless Affordable Safe
Beaver Valley Foot Clinic uses the latest technology, and we are right in your backyard! For the Treatment of Fungal Nails Pittsburgh, Onychomycosis, chronic pain, plantar warts.
Toenail Fungus Removal

Toenail fungus can be very embarrassing. Fortunately, there is laser treatment available for this condition. Laser treatments for toenail fungus removal were first approved by the Food and Drug Administration back in 2010. Health care professionals at Beaver Valley Foot Clinic can use several types of lasers to remove the toenail fungus. Laser treatments are popular for toenail fungus removal because they destroy and heat the harmful fungi, but they keep the healthy tissue intact.
It is important to note that the toenail does not instantly become clear after getting this treatment. However, the fungus will die, and the results of this procedure will become more apparent when the new nail grows out. In many cases, people only need to get one treatment before they get the results they want. Some people have to return to Beaver Valley Foot Clinic for a follow-up treatment in order to ensure the fungus is gone.
Laser treatments for toenail fungus removal can typically completed within 15 minutes. There is no drugs or anesthesia required for this treatment. Laser treatment is also painless. Additionally, laser treatment is very safe.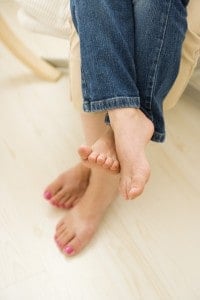 Even though laser treatment is effective for killing fungus, a new fungal infection may still develop. People who are genetically predisposed to this disease are very likely to develop a new fungal infection. Patients with aggressive toenail fungus are often required to get periodic treatments.
Cosmetic Procedure
Laser treatment is considered a cosmetic procedure. That is why it is not covered by most health insurance plans. The cost of laser treatment can vary greatly.
If you are interested in getting laser treatment for toenail fungus removal, then you should contact us here at Beaver Valley Foot Clinic. Our professionals at Beaver Valley Foot Clinic will be happy to answer any questions that you have. We are based out of Pittsburgh, PA. also 8 other Body Beautiful locations have licensed technicians to laser your toenails
What is the Laser Toenail Fungus Procedure?
Do I Need More Than One Toenail Fungus Treatment Laser?
Is the Procedure Painful? How Long Does the Procedure Take?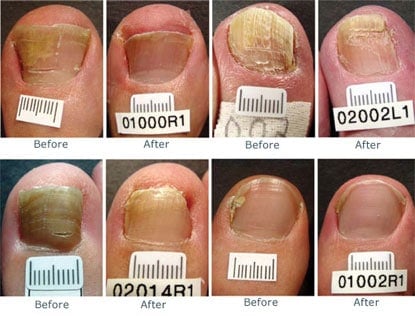 We use the most effective laser for toenail fungus. This laser effectively treats chronic toenail fungus infection. The laser shines a focused light beam to the target area, into the infected toenail. The laser penetrates the toenail and vaporizes the nail plate, where the infection lies, pulling the infection up and removing it. The toenail will grow back within a few months, fungus free. During your initial consultation, our experts will go over the treatment and procedure to eliminate the fungus.
Usually one treatment is enough, but sometimes that depends on the individual and the condition of your toenails, which will be determined by your podiatrist. We offer one free follow up treatment for all our patients, just in case.
This procedure takes less than 15 minutes and is completely painless, with no drugs or anesthesia required.
After Toenail Fungus Treatment Laser , Will Fungus Grow Back?
During the procedure, the fungus appears to be killed by the laser light without harming the rest of your toenail. Some individuals may have a predisposition to the disease, however, or they have an aggressive case that may require periodic treatment to kill any new fungal infection that may arise.
What Does FDA Cleared Mean?
Our laser has been cleared for dermatological use by the FDA. This is considered a dermatological procedure.
How Much Does Toenail Fungus Treatment Laser Cost?
The cost of the Procedure may vary by case. Please call our office for pricing.
Why Isn't Toenail Fungus Treatment Laser Covered By My Insurance?
This is considered a cosmetic, not a medical procedure. It causes clear nail growth through the death of the fungus. Very few health insurance plans cover this procedure.
How Do I Pay For Toenail Fungus Treatment Laser?
The Doctors currently offer this procedure on a "fee for service" basis only. You will have to pay for the procedure at the time of your treatment. Cash, checks, money orders, Visa and Mastercard are accepted.
We recommend an appointment with Dr. Teimouri, DPM prior to treatment to verify the fungus and the benefits of the procedure to you. She can answer all your medical questions and can be reached at 878-313-3338 with 4 locations. You may also schedule the procedure at Body Beautiful Laser Medi-Spa 12 convenient locations in the Pittsburgh area by calling 724-987-3221. Go to www.BBLMSpa.com to see other available laser procedures.