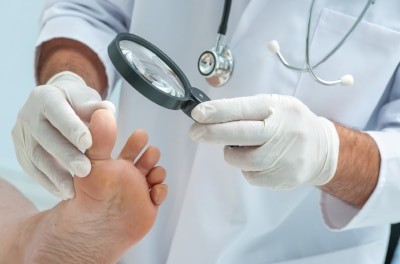 all diabetics should have their feet checked by a foot dr
Common warnings signs of diabetes include:
Increased thirst.
Increased hunger (especially after eating)
Dry mouth.
Frequent urination or urine infections.
Unexplained weight loss (even though you are eating and feel hungry)
Fatigue (weak, tired feeling)
Blurred vision.
Headaches.
If you have several of these sighns or symptoms, please make an appointment with your family physician and have a simple blood glucose test to determine weather or not you may have gotten types 2 diabetes. Sometimes a small change in diet or increased exercise can reverse this. But the longer you wait, the more difficult and involved treatment becomes. I any event, have your feet checked by a podiatrist
Don't let diabetic foot pain get in your way
We have same Day and Emergency appointments for Diabetics  with a diabetic foot ulcer available in one of our 4 foot clinics in Beaver County, Cranberry Twp foot clinics, or Podiatrist office in Moon Twp!