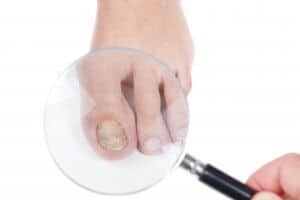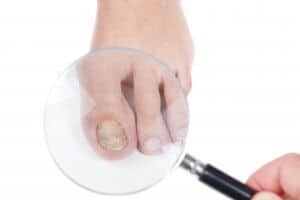 Nail fungus, or Onychomycosis, is a common infection of the nail and is not only embarrassing, but very painful and easily spread from toenail to toenail, toenail to fingernail and is highly contagious.
There are various factors that put you and others at risk of contracting the infection:
Playing sports, sweating and/or wearing footwear that traps sweat
Repeated nail trauma causes toe fungus
Going to a nail salon for a pedicure causes toe infections
Walking around barefoot in damp, public places like a gym shower or public pool
Athlete's foot, another foot fungal infection, can spread from the toes to the toenails
Symptoms of toe nail fungi :
Black toenail fungus – thick discolored crumbly nails
Fungus under toenail- yellow nails, thickened, painful
There are various over-the-counter antifungal topical treatments and oral prescriptions for  toe fungal treatments available, but there are two new FDA approved topical prescriptions that may be worth exploring.
What Causes Toenail Fungus?
A variety of fungi can cause nail fungus (fungi). The dermatophyte kind is the most prevalent. Molds, bacteria, and yeast can all result in nail infections.
A bacterial infection usually results in green or black staining.
A fungal infection of the nail can migrate to the foot, and a fungal infection of the foot can travel to the nail (athlete's foot).
A gym shower's floor tile or the interior of a pair of black, sweaty, moist shoes are examples of places where you can come into touch with fungi and become infected.
When To See A Doctor?
If self-care measures haven't worked and the nail starts to get thicker, more discolored, or malformed, you might wish to consult a doctor. Also discuss the following with your healthcare professional:
You have diabetes and suspect you have nail fungus
surrounding the nails in blood
discomfort or swelling around the nails
Having trouble walking
the best video for Foot Fungus
Treatment Options- toe fungus treatment & toenail fungus cure
JUBLIA®, or efinaconazole, is topical solution applied to the toenails and surrounding skin and is recommended to treat toenail infections. JUBLIA®, should be applied once daily for 48 weeks. For the most effective outcome, avoid any nail polish, cosmetic nail products and pedicures during usage.
KERYDIN®, or tavaborole, is a topical solution toenail fungus treatment applied to only the toenail. Patients should avoid getting KERYDIN® on the surrounding skin. KERYDIN® should be applied once a day for 48 weeks. The use of nail polish, cosmetic nail products or getting a pedicures during usage to treat toenail fungus have not been evaluated.
During clinical trials, roughly 30% of both JUBLIA® and KERYDIN® users said they were completed cured after a 52-week trial. Complete cured means an entirely new nail grew without any sign of a new fungal infection.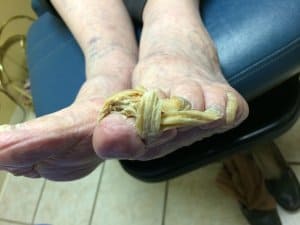 Is JUBLIA® or KERYDIN® right for you as a nail fungus cure?
Discuss with your podiatrist all of the antifungal treatments available to you. There are oral medications available that are known to cure 60% of toenail fungus cases, but oral prescriptions also warn of potential liver damage.
Also keep in mind, it takes nearly a year for a toenail to fully regrow so no matter what treatment you choose, it's going to take some time for the issue resolve itself.
Choosing the right treatment for your toenail fungus is a decision up to you and your doctor. If you suffer from toe nail fungus, call Dr. Christina Teimouri at (878) 313-FEET and schedule an appointment at one of our five Pittsburgh area locations.
Beaver Valley Foot Clinic – Gentle, fast relief from all kinds of foot pain.
Call now for general information or to schedule an appointment 878-313-FEET (3338)!

For the treatment of fingernail fungus… Call
10 Body Beautiful locations with lasers for toenail and fingernail fungus in Pittsburgh for your convenience!
Eastern or Central Pa call Sound Medical Technology for the closest Podiatrist with laser toe nail Fungus Treatments