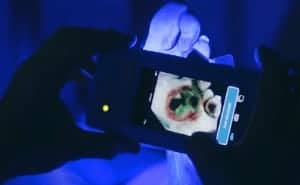 MolecuLight-iX-Wound-Care_EUCAN_Rev-1.0

New technology

Real-Time Detection of Asymptomatic Bioburden in Wounds
Use of the MolecuLight i:X to image for bacterial fluorescence, in conjunction with clinical signs & symptoms, adds an additional bacterial-specific piece of information that can be captured and considered in real-time.
Real-Time Detection of Asymptomatic Bioburden in Wounds
Digital Measurement of Wound Area, Length, Width and Depth with Moleculight
The MolecuLight i:X's easy-to-use tool for performing digital wound area measurement and documentation allows clinicians to digitally measure a wound, save the measurement, save the image of the wound with a fluorescence image of bacterial presence, save location and load and allow access to the image longitudinally to assess wound healing.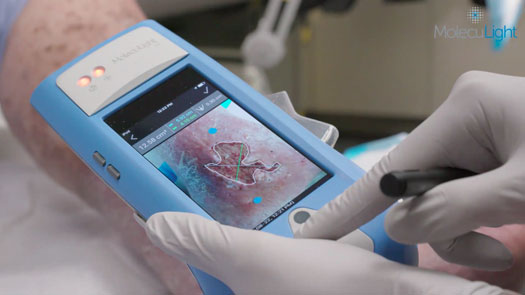 Takes the guesswork out of Infection!
Accurate: ≥ 95%1
Rapid: Calculate area, length and width in seconds
Automated: Auto-detection of wound boundaries displayed on image
Consistent: Reproducible, accurate
Facilitates Documentation: for wound monitoring and reimbursement
EMR Import: Images and measurements easily imported into EMR
Wound Healing Cost Savings with MolecuLight i:X Case Study
Of all surgical wounds, the highest rate of surgical site infection occurs with lower limb amputations.1 Infection complications include rupture of the suture line, cellulitis, delayed healing and further surgery. It is vital to aggressively monitor amputation wounds for clinical signs and symptoms of infection.