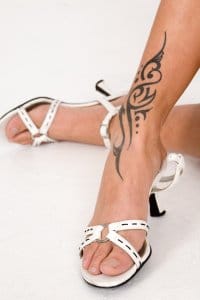 Picosure Laser Tattoo Removal of the Leg and Foot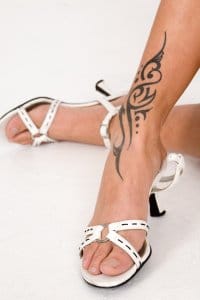 Have  tattoo regret?
Want to land that dream job?
get into the military
remove an ex's name
not embarrass your kids
hang with a different crowd
make room for a better tattoo
Now at the Beaver Valley Foot Clinic we can help eliminate old tattoo mistakes!
Picosure Laser Tattoo Removal
With new Picosure technology we can cut treatment time in half  and remove colors that were previously very hard to remove like green, purple, red and yellow.
R20 technology breaks up ink into tiny particles that are easily eliminated by your body's natural mechanisms
For chest tattoo removal, wrist or arm tattoo laser removal or anywhere call our sister company Body Beautiful Laser Medi-Spa in 11 convenient locations
Are Laser Tattoo Removal Safe?
Laser tattoo removal is generally considered a safe procedure when performed by a qualified and experienced professional. However, as with any medical or cosmetic treatment, there are potential risks and side effects that should be taken into account.
One of the main risks of laser tattoo removal is the possibility of skin damage, such as scarring or discoloration. This risk can be minimized by using the appropriate type of laser for the specific ink colors and skin type, as well as by following proper treatment protocols.
Another potential side effect is temporary discomfort, including redness, swelling, and blistering. These effects are usually mild and can be managed with over-the-counter pain relief and topical treatments.
In rare cases, some individuals may experience an allergic reaction to the ink or to the laser itself, which could cause more severe symptoms such as itching, hives, or difficulty breathing. It is important to inform the healthcare provider of any known allergies or medical conditions prior to treatment.
Overall, laser tattoo removal can be a safe and effective way to remove unwanted tattoos. It is important to choose a reputable provider and to follow all post-treatment care instructions to minimize the risk of complications.
Who Should Get Laser Tattoo Removal?
Laser tattoo removal is a viable option for anyone who wants to remove an unwanted tattoo. Some common reasons for seeking tattoo removal include a change in personal or professional circumstances, dissatisfaction with the appearance of the tattoo, or regret over the decision to get the tattoo.
Individuals with certain medical conditions or skin types may need to take extra precautions or avoid laser tattoo removal altogether. For example, individuals with darker skin may be at a higher risk for discoloration or scarring, while those with certain skin conditions such as keloids may not be suitable candidates for the procedure.
For more information on aftercare of tattoos click here.

Our Pico has the new BOOST OPTION! as a leader in the field of tattoo removal, this makes treatment even faster and easier. And quicker speeds mean less discomfort for you!
Premium Tattoo        "1/2 Price if V.I.P."
Removal PicoSure
 Extra Small 1″ to 3″   inches     $  79 – 128
  Small          4″ to 6″   inches     $129 – 248
       Medium      7″ to 10″  inches     $249 – 498
   Large        11″ to 16″ inches        $499 – 648
 X-Large    17″ +    inches        $649 and up
Call Now for more information about tattoo removal in Pittsburgh, PA. 878-313-FEET (3338) for foot and leg tattoos
724-987-3221 for full body tattoo removal
Hours of Operation
         Monday – Friday 8:00 am – 5:30 pm
         Evenings and weekend available