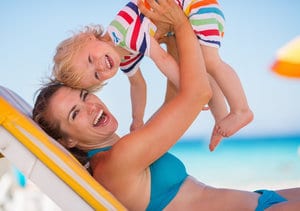 Get Off on the Right Foot: A Guide to Children's Footwear
While it's important for adults and the elderly to wear protective and sturdy footwear to avoid injury and infection, it's important to start practicing proper foot care and hygiene at an early age. Proper fitting shoes will help form your child's growing feet. And while many may not realize it, good shoes will also help with the development of your child's ankle joints and growing leg above. This month, Pittsburgh Podiatrist Dr. Tina Teimouri of the Beaver Valley Foot Clinic shares some tips on buying children's footwear.
Children's Footwear
Oh, baby, baby! While it's tempting to accessorize your babies clothing with stylish boots, sandals and sneakers, the American Academy of Pediatrics suggests your babies' feet will better develop if they simply wear socks or go barefoot during the early months. Shoes were invented for protection long before they became a fashion statement. Unless your baby is starting to walk around outside, stick to socks or bare feet until they get a bit older.
Measurement matters. It's best to have a shoe sales associate measure you child's foot for proper fitting. If you can't find one, most stores have size charts for reference. If you're at home, have your child stand tall against a wall, feet flat on the floor. Mark the floor where the longest toe of the right foot ends. Repeat with the left foot. Not all feet are created equal, so be sure to take the larger of the measurements for the most accurate shoe size.
Hey foot! Stay put! The retaining medium, a.k.a. the part of the shoe that keeps the shoe on the foot, should typically be shoelaces, Velcro or some sort of T-Bar design that acts as a seatbelt for the foot. If shoes aren't secure to your child's feet, their toes are naturally going to claw to keep the shoe on which will later cause toe deformities.
Good soles.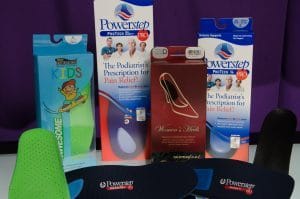 Good soles. Whether it's around the neighborhood, in gym class or on the playground, kids do a lot of running around. And with all of the pounding on the pavement, be sure to invest in shoes that have a rubber or polyurethane sole. These are both slip-resistant and shock-absorbing materials that are flexible, yet hard-wearing and will do your child good when they're running around.
Breathe easy. Much like adults, children are prone to skin and nail infections like Athletes foot and nail fungus. Shoes that have a breathable lining and are made of moisture-wicking fabrics will help transfer water and sweat away from the foot, decreasing the chances of these contagious infections.
Alley-Oops! As children grow up and become more engaged in sports related activities, it's important to buy proper footwear for each respective sport. For instance, high-top sneakers are a good option for basketball players since the added ankle support helps protect the ankle from injury. Other sports like soccer, football and baseball require cleats allowing the players to move about the field freely with less chances of slipping on turf or grass. If your child is a competitive runner, its best to find a running shoe that is lightweight, but has a good shock-absorbing sole to handle all of the miles they'll put on them. If you're unsure on what to buy, consult their coach, trainer or podiatrist for guidance.
Construction
When choosing shoes, comfort and safety should come first. Toe flexibility, a firm heel, and a rigid middle are things to look for in shoes. The material chosen should be breathable, lightweight, and absorbent. Given that most infants have flat feet, pay careful attention to the insoles.
Children's Foot Hygiene
Practicing good foot hygiene and wearing proper fitting shoes is important for all ages, especially for children growing during the developmental stages. One wrong step could lead to a lifetime of issues. Talk to your child's podiatrist for more information on proper footwear and care.
Call one of Pittsburgh's most renowned Podiatrist's, Dr. Tina Teimouri, at 878-313-3338 (FEET) and schedule your child's appointment at one our five offices conveniently located in Allegheny, Beaver and Butler counties.