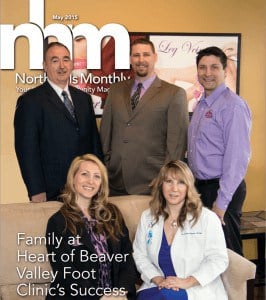 Family Business
Click here to read North Hills Monthly's latest article Family at Heart featuring Beaver Valley Foot Clinic, Pittsburgh Medical Mall and Body Beautiful Laser Spa.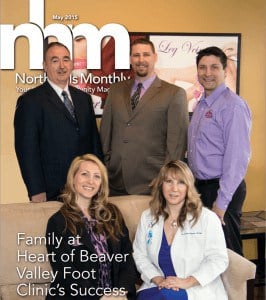 Dr. Christina Fleis Teimouri, DPM founded Beaver Valley Foot Clinic over 20 years ago. As the oldest of 6 children, she promised her father who passed at age 49 that she would take care of the family. Instead, she says, "they take care of me, and we still enjoy working and playing together."
Angela Fleis Gatenby editor of Living Body Beautiful Magazine, received her BA in English Education from Pitt. As an educator, Angela taught students both in the United States and Mexico. She is a freelance writer and aspiring children's book author.
Andrea Fleis Giraldo graduated from RMU in Radiation Technology. While doing her clinicals at AGH, she met Dr. Giraldo. After graduation she worked both at the Medical Center in Beaver and for 6 years at BVFC as office manager and lead technologist. She now runs Dr Giraldo's Medilaser Vein and Surgical Center; without her contributions and sacrifices much of this would not be possible.
Mark Fleis is the manager of Body Beautiful Laser Medi-Spa and an Internationally Certified Laser Technician. He is the Director of Pittsburgh Medical Mall and oversees all marketing, social media and advertising. Mark has a Masters Degree in Education and Counseling from SRU and has been a Wellness Coordinator since 2006.
Marcia Fleis Hale is a Permanent Makeup Specialist and Intradermalist at Body Beautiful. Marcia graduated with a Bachelors of Fine Arts and Humanities from SRU and Carlow College, and is an Art Teacher and Muralist for businesses and homes. View her portfolio www.thefineartsofbeauty.com or call 724.680.0048.
Richard Fleis (the youngest of 6) graduated from SRU with degrees in both Management and Science. Starting in high school and working his way up, he performs every role from certified technician to operations manager. Rich has worked behind the scenes for 18 yrs to ensure every patient and employee is cared for properly.