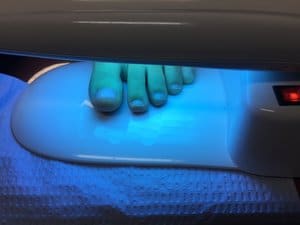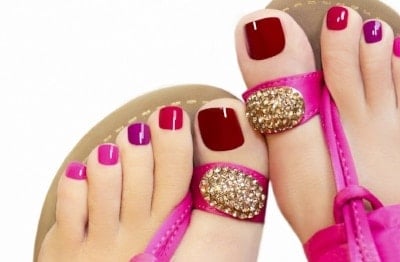 Fake toenails are now a reality!
If you play sports and damaged a nail, or if time has caused your nails to crumble- we can help with KeryFlex !
New nails are only 20 minutes away. These are not Acrylic toenails. Acrylic is porous and causes nails to let water soak in and actually rots them over time, making the problem worse. Our nails are made of a nonporous waterproof resin. This protects the nail growing underneath. As it grows out I recommend a topical antifungal be applied at the base, leaving a new nail growing in fungus free.
The resin nails grow out with your nail and can be "filled" similar to acrylics evey 3 months. If your toenails have turned brown, black or yellow, these can cover them in a nice smooth surface. They are paintable with regular nail polish, which can be removed using acetone nail polish. It will not harm your new nail!
KeryFlex
Nail Restoration is a painless, in-office application that restores the appearance of an individual's natural nails. This system allows for a certified provider to remodel an individual's damaged nails affected by fungus, defects and trauma. The composite resin creates a flexible, but durable, non-porous nail that allows the remaining natural nail to grow.
Acrylic nails are rigid,  KeryFlex restored are flexible nails allowed to bend with your foot and toes natural movement

KeryFlex nails are compatible with human tissue so it does not irritate nor will it cause further damage to your skin or nail bed

Your remaining nail can then grow out naturally

It is non-porous, therefore will not allow moisture to penetrate and cause damage and fungus to grow between the natural and prosthetic nail
READY TO SCHEDULE AN APPOINTMENT for Fake Toenails?
Call us today 878-313-3338 to schedule at any of our four Podiatry Clinics in Beaver, Butler, or Allegheny County locations, including Podiatry offices Moon Township, Ambridge, Cranberry Township's full service Podiatric office and our newest Foot Clinic, Beaver, PA
Call now to talk to a foot care specialist 878-313-3338 ( FEET)