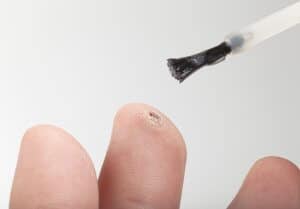 Plantar Warts on Childrens' Feet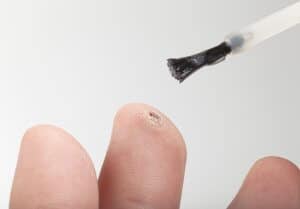 Children get warts on their feet.  It happens. What should you do as a mom (or dad) once your child tells you their is something growing Plantar Warts on Childrens' Feet?
Check for little black dots within the lesion.
Do the skin lines go around the wart?
Does it hurt if you squeeze the wart?
Is it starting to hurt when your child runs?
Over the counter meds DON'T work on feet!
Bring your child to a podiatrist!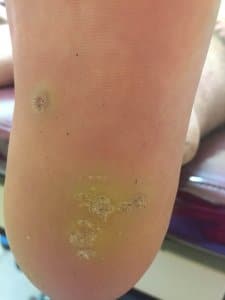 Treating Plantars Warts
@Beaver Valley Foot Clinic we give you options to treat plantars warts in Pittsburgh.
1. Topical paint on medicines much stronger than OTC.
2. Curetting out the wart in one single visit    3. The most cutting edge Lasers available to cut off the warts blood supply. These are kid friendly and non painful.
Plantar Warts on Childrens' Feet
Major Benefits of Swift Wart Treatment


Maybe you've undergone wart therapy before and you're skeptical about a new form of treatment or maybe this is your first time seeking help and you have some questions about the effectiveness of the Swift Treatment.
Not only does the Swift method for treating warts outperform other modalities, it has many ancillary benefits.  
Rapid treatment time:

The treatment itself only takes a few seconds and real results can be seen in a few weeks as opposed to months with other treatments.

Few treatments needed:

Three or four treatments is all it usually takes.

Highly effective:

Over 80% of those who undergo Swift treatment are satisfied with the results.

No dressings required:

There is no damage to the surface of the skin and therefore no need to constantly change dressings or keep the area dry. 

No need to self-care:

You won't need to do anything between appointments. There are no creams to apply or lifestyle changes to make.
As you can clearly see, the Swift technique is a major advance in the treatment of painful and embarrassing warts.
How To Prevent Warts In Kids?
No one wants their little ones develop warts in the future once again, therefore if you are looking for some preventive tips then here are some of them:
Keep Their Hands And Feet Clean
After your kids come back home make sure they was their hands and feet.
Since there are many bacteria thriving on surfaces of the outside world.
If those bacteria live for too long on your children's skin then they are at a risk of developing warts.
So make sure they keep themselves clean.
Don't Let Them Go Out Barefoot
Letting your kids go barefoot can be really dangerous as there are tons germs looking forward to invade a healthy body.
So whenever your kid goes out make sure they never go out barefoot.
Hours of Operation
         Monday – Friday 8:00 am – 5:30 pm
         Evenings and weekend available for emergencies
Call now for general information or to schedule an appointment 878-313-FEET (3338)!
22 years of experience
4 convenient locations in Allegheny, Butler and Beaver Counties
Board Certified Podiatrist ABFAS
If you get warts on other parts of your body, Call 724-987-3221
BODY BEAUTIFUL